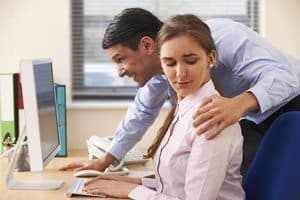 Don't be a Victim of Sexual Harassment
The issue of sexual harassment is one that attracts much attention and from which many cannot turn away. The most recent and public example involves a plaintiff who is, according to her complaint, a graduate of Stanford University, an accomplished concert violinist and a trustee of the March of Dimes. The individual who she accuses of harassing her was the Chairman and Chief Executive Office of a major news organization. You have no doubt already concluded that the case being referred to here is that of Gretchen Carlson v. Roger Ailes filed in the Superior Court of New Jersey on July 6, 2016.
Ms. Carlson brings her action alleging violation by Mr. Ailes of the New York City Human Rights Law, New York City Administrative Code §8-107. At one point in the complaint, Ms. Carlson alleges that "As a direct and proximate result of Carlson's refusing Ailes' sexual advances, and in retaliation for Carlson's complaints about discrimination and harassment, Ailes terminated her employment, causing her significant economic, emotional and professional harm."
While many are aware of and have heard the allegations, some of them sensationalized, brought by Ms. Carlson, most people are not familiar with New York State Executive Law §296. This statute is a long and complicated provision of the law. For the purposes of this blog post, it is sufficient to note that pursuant to Executive Law §296(1)(a) it is an unlawful discriminatory practice for an employer, because of an individual's sex, to discriminate against such individual in compensation or in the terms, conditions or privileges of employment. One court has written that an employee may succeed on a sexual harassment claim pursuant to this provision of the law if the employee can establish that he or she is a member of a protected group, is subjected to unwelcome sexual harassment based on his or her gender that affects a term, condition or privilege of his or her employment, and that the employer knew or should have known of the harassment and failed to take remedial action. Tidball v. Schenectady City School District, 122 A.D. 3d 1131, 997 N.Y.S. 2d 763 (3d Dep't, 2014). The court continued that an employer will be liable for an employee's discriminatory act where the employer became a party to it by encouraging, condoning or approving it. The term "condoning" includes an employer's calculated inaction in response to discriminatory conduct.
Sexual harassment in the workplace is a too-common allegation. One court has written that to establish a case of hostile work environment sexual harassment, the party who was injured is required to show that the employer knew or should have known that the employee was subjected to unwelcome sexual harassment and that the employer failed to take remedial action. Bracci v. New York State Division of Human Rights, 62 A.D. 3d 1146, 878 N.Y.S. 2d, 830 (3d Dep't, 2009).
Claims and cases involving sexual harassment in the workplace are often, and obviously, fact intensive. Both the Federal and State court dockets are filled with cases involving sexual harassment and resulting employment discrimination. Interestingly, in the Gretchen Carlson case, she is only suing Roger Ailes and is not suing Fox News of which Mr. Ailes was the chairman and CEO. There is speculation this choice was made because her employment contract contains a very strict confidentiality provision which would prevent her from talking about the lawsuit.
There are many issues in play in an action of this type working both for the plaintiff and for the defendant/employer. If you believe that you have been subjected as a result of your gender, to conduct which is physically threatening or humiliating and which might unreasonably interfere with your work performance you should consider your legal options.
---
Robert M. Lefland is Senior Counsel with the firm and practices Personal Injury and Appellate Practice. He can be reached by phone at 866-303-9595 toll free or 845-764-9656 and by email.