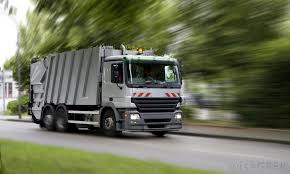 New Law with Hefty Penalty for Passing Sani-Vans and Waste Collection Vehicles
An old joke asks: what has 4 wheels and flies? As of November 1, 2016, it had better not be you driving a motor vehicle past a garbage truck. . . and here's why.  There's a new law with hefty penalties for passing sani-vans and waste collection vehicles.
For more than 5 years, New York State has required that drivers slow down AND move over when passing emergency vehicles that are stopped performing their duties. In order to protect  emergency service personnel such as police officers and firemen from the risks of performing their duties on the highways, New York State enacted the Ambrose-Searles Move Over Act  which took effect January 1, 2011. It requires that every operator of a motor vehicle must use due care to avoid colliding with an authorized emergency vehicle which is parked, stopped or standing on the shoulder or any portion of a highway when the emergency vehicle is displaying one or more red or combination red and white and/or blue lights. This law mandates that the operator of the motor vehicle approaching a stopped emergency vehicle must use due care which includes moving from a lane which contains, or is immediately adjacent to, the shoulder where an authorized emergency vehicle displaying their emergency lights is parked, stopped or standing.
As of November 1, 2016, the law was amended to include sani-vans  and  waste  collection  vehicles  while engaged  in  the  collection  of refuse and/or recyclable materials on a  public highway. The purpose, as might be expected, is to ensure the safety of sanitation and recycling workers. A sani-van is any motor vehicle  which is  so  designed that it contains a rear compaction unit and is intended  for and is used in the collection of refuse and/or recyclable materials. A waste collection vehicle is any motor vehicle which is commonly classified  as  a  garbage truck that is designed for and is used in the collection of refuse and/or recyclable materials. If the amber lights are activated on a garbage truck, the law now directs that a driver slow down and MOVE OVER.
And what is the penalty if you violate the law? Vehicle and Traffic Law §1180[h][2] states that upon conviction punishment shall be a fine of not less than $45.00 and up to $150.00 OR by imprisonment for not more than 15 days…or both! Therefore, common sense as well as New York State Law require that you drive at an appropriate reduced speed and MOVE OVER when approaching emergency vehicles displaying red and white and/or blue flashing lights as well as garbage or recycling trucks displaying amber lights.
---
Robert M. Lefland is Senior Counsel with the firm and practices Personal Injury and Appellate Practice. He can be reached by phone at 866-303-9595 toll free or 845-764-9656 and by email.