FIREWORKS IN 2020!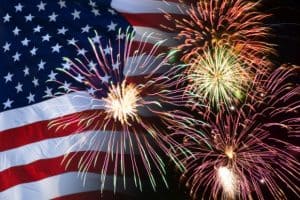 UPDATE:
Do not bring in fireworks from Pennsylvania!
Late on Monday, June 29, 2020 Governor Cuomo announced that he was "directing the New York State Police to establish a temporary Fireworks Enforcement Detail to stop illegal fireworks being brought to New York from Pennsylvania. This is in response to a spike of illegal firework use throughout the state, which has generated widespread complaints and media reports."
Fireworks!  The celebration of the birthdate of the United States, July 4, 1776, will be quickly upon us.
It is a time for barbecues, family fun, celebrations and often fireworks.
Can you use fireworks?
Can you even buy fireworks?
What, precisely, are fireworks that are legal in the State of New York?
And in 2020, what impact will COVID-19 have on our celebrations?
First, this entry will address the Hudson Valley region and is subject to change. If you are reading this beyond those boundaries, different pandemic rules may be in place. For the vast majority of fireworks displays that were held in 2019 in the Hudson Valley, the local municipality, be it city, town or village, has cancelled them for 2020 due to the COVID-19 health emergency.
Orange County's Freedom Fest fireworks will be held on Saturday, July 18, 2020 at Thomas Bull Memorial Park in Montgomery. Gates will tentatively open at 6 p.m. and fireworks will begin at dusk. Residents are encouraged to bring their own food and drinks – no glass bottles will be permitted.
Westchester County Executive George Latimer has cancelled Fourth of July fireworks in Kensico Dam.
For answers to the questions about privately buying and using fireworks, we turn to the New York State Department of Homeland Security and Emergency Services.
Sparklers:
"Sparkling devices are allowed to be sold and used in New York State though not in every part of New York State." So what is a sparkling device? It is, technically, a "ground based or a hand held device that produces a shower of colored sparks and/or a colored flame, audible crackling or whistling noise and smoke." Orange County, effective April 10, 2015, legalized this device.
They cannot be sold or used in the following counties: Bronx, Columbia, Kings, Nassau, New York, Queens, Richmond and Schenectady.
All other types of consumer fireworks, including firecrackers, bottle rockets, roman candles, spinners and aerial devices remain illegal statewide.
Sales of sparkling devices by certified permanent and specialty retailers can only occur from June 1 to July 5 and December 26 to January 2.
Sales of sparkling devices by certified temporary stands or tents can only occur from June 20 to July 5 and December 26 to January 2.
Additionally, all consumer fireworks, including sparkling devices, remain fully prohibited in the City of New York.
Dangerous Fireworks:
Under Penal Law §270(b), the term "dangerous fireworks" means any firework capable of causing serious physical injury and which are firecrackers, sky rockets and rockets including all devices which employ any combustible or explosive substance and which rise in the air during discharge, roman candles and bombs.
In New York City, the term dangerous fireworks also includes sparklers more than 10 inches in length or chasers including all devices which dart or travel about the surface of the ground during discharge. New York City forbids even sparklers, as indicated above.
Orange County Fireworks:
An important safety [and legal] reminder from the NYS Police website: "It is a crime to provide a sparkler to a person less than 18 years of age, even in the jurisdictions where sparkling devices have been legalized."
Different communities in Orange County have different provisions regarding the public display of fireworks.
For instance, the Town of New Windsor forbids any person from conducting a private fireworks display unless a valid permit has been issued by the permitting authority. At a minimum, such a permit must be requested at least 10-days in advance of the date of the fireworks display.
Likewise, the City of Middletown requires that a permit be issued for a public display of fireworks.
Safety:
The Homeland Security and Emergency Services Department has published sparkler safety tips. They include many which are based on common sense. For example, always follow the directions on the packaging and never use indoors. Never point a sparkler towards anyone or, for the matter, yourself. Keep an approved fire extinguisher nearby and douse malfunctioning or spent devices with water before discarding to prevent a fire.
According to the State of New York, sparklers burn at temperatures of about 2,000 degrees Fahrenheit.
Be safe, be smart and not only will you enjoy this holiday but many more to come.
This is not intended to be legal advice.  You should contact an attorney for advice regarding your specific situation.  
______________________________________________________________________________________________________
Robert M. Lefland
is Senior Counsel and primary attorney in charge of Personal Injury at J&G. He can be reached by calling 866.303.9595 toll free or 845.764.9656 and by email .  He is available by appointment on Saturday's.  If you need his immediate attention, you can reach him on cell.