IS YOUR ONLINE WILL VALID?
With promises of producing the exact forms that you need, for an unbelievable price, and in a matter of minutes, it's no wonder that many people are opting for online services for their estate planning needs instead of seeking advice from a qualified attorney.  A Last Will and Testament can be drafted in under 15 minutes after answering a series of questions online, but is it going to produce a quality document tailored to you?
Does the on-line program consider all of the things that an attorney would?
Will your Last Will and Testament hold up in Court, after you pass, should someone contest its validity?
Last Wills and Testaments are necessary to ensure that our wishes are carried out after we pass and that our loved ones are taken care of in the way we had planned that they would be in our absence.  The Will is work that we do during our lifetime for the benefit of our families, friends, and favorite charities when we are no longer here.  Just as we have the ability to name our beneficiaries and to designate the shares that they will receive, we are also able to exclude certain family members if we choose to.  Which of your assets will pass outside of probate? What is probate? It is a lot to consider, which is why a one-size-fits-all approach may not produce the result that you intend when ordering documents from online services.
It is often the case that when someone calls us and asks us to draft a simple Will, after just a few moments of conversation during a free consultation it becomes apparent that the estate is anything but simple, and there is a lot more to contemplate than originally anticipated. A qualified attorney will take the time to understand your family tree, gain a true knowledge of your assets, understand the stage of life that you are in, and help you to realize who would inherit from you if you passed away without a Will, versus what can be accomplished with a Will.  Seeking the advice of counsel is your best bet to ensure that your assets go to the intended recipients, in the correct way, at the appropriate time, when you are no longer here to oversee the process.
The content of a Last Will and Testament is very important and should be specific to you, but it is not   the only thing to consider. Who gets what and when?  Who will the Executor be?  Does the testator's name appear correctly? The document may include those things and more, but if it was not executed according to the laws of the State of New York, it may be invalid. It is possible to go online, answer all the questions and produce a document, only to not sign it properly and walk away with an invalid document.  How would you know if it was valid during your lifetime if you weren't familiar with the laws of the State of New York? You may not, and this is why it is best to seek the advice of counsel. If your Will is invalid, then the person that you attempted to exclude may now have a claim to your estate, meaning that your intended beneficiaries may receive a smaller share or nothing at all. Not good. Plan wisely and seek assistance.
Seeking estate planning guidance from a legal professional during your lifetime may significantly affect how your family inherits from you after you pass.  You may spend more money and time now, but it will be worth every penny to those that you leave behind. So, instead of creating an online legal form user account, call as experienced attorney for a free consultation.  Give yourself the gift of peace of mind.
This article appeared in the June 3, 2022 edition of the Senior Gazette.
This is not intended to be legal advise.  You should contact your attorney to discuss your specific situation.
____________________________________________________________________________________________________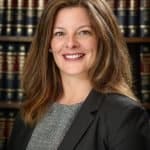 Cynthia J. Hand is an Associate at the firm and practices estate planning.
She can be reached at 845-764-9656 and by email.