Important Legal Issues Facing Seniors
Will You Need Community Medicaid?  Community Medicaid covers care and medical services that will enable an applicant to continue living on their own, as opposed to living in a nursing home; in other words, applicants will remain in the community. It is available to eligible New York residents who are living in their own home.
New transfer rules in connection with Community Medicaid in New York are expected soon.
Any person applying for Medicaid Home Care benefits after that date will be subject to a 30-month lookback period.  Medicaid Home Care includes home health aides, adult day care, and community-based services.  Applications made prior to these announcements, are not subject to a lookback period.  Timely applications could make a very important difference in the cost of care for yourself or someone that you know.  Financial records for the lookback period will be required from the applicant and their spouse. The cash value of assets sold or given during the lookback period for less than fair market value could result in periods of ineligibility for Medicaid benefits.
Another serious issue for elders, identity theft, is now a recognized form of Elder Abuse. Earlier this year, Governor Kathy Hochul signed new legislation to protect New York's aging population against the harmful effects of fraudulent use of personal information.  This misuse of information has caused many to go into bankruptcy and to lose their retirement savings. The legislation gives the Office of the Aging and law enforcement the necessary tools to recognize this as abuse and manage it properly to protect our area seniors.
Seniors and other qualifying groups in need of affordable housing received a much-needed boost when the Governor recently signed three new bills.  Some of the highlights include:
Raising the maximum income eligibility standard.  Now seniors with an annual income up to $50,000 can qualify for a real property tax exemption.
Senior homeowners now have 60 days to complete RESTORE projects and the maximum cost per project has increased to $20,000.
A new $300 million plan for the construction of senior housing.
Planning early for probable eventualities can provide peace of mind and a smooth transition into the later years of your life.
Designating agents to act on your behalf during your life when you are unable to make decisions for yourself, in advance of needing the help, allows you to have control over who will be there to help you to make important financial and medical decisions when you need them most.  Inquire about Power of Attorney forms and Healthcare proxies to meet this need.
Wills and trusts allow you to plan the division of your assets after you pass away.  New York State intestacy laws govern who within your family is next-of-kin and then designates that all among the same class of relatives will inherit an equal percentage of your estate.  Contact an attorney to find out who would inherit from you if you passed away without a Will.  Decide if that meets your needs or wishes, and then ensure your intended result by speaking with legal counsel about your options.  Do you wish to disinherit someone?  Do you intend for one member of your family to receive more than an equal share? Is there someone completely unrelated to you that you wish to leave something to? These are plans made during your life for the benefit of others after you pass. Protect the assets that you worked so hard to acquire for the people that you care about and consider the protections afforded by trusts.
The best decisions and plans come from a place of being well informed of the options and the laws that affect them.
We often provide free webinars on estate planning, and you can visit our website at www.jglaw.law/events to learn more.  We also offer free consultations for estate planning documents.
This article appeared in the September 16, 2022 edition of the Sullivan County Democrat.
This is not intended to be legal advise.  You should contact your attorney to discuss your specific situation.
____________________________________________________________________________________________________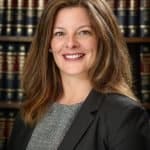 Cynthia J. Hand is an Associate at the firm and practices estate planning.
She can be reached at 845-764-9656 and by email.[/column]